Steve Hoffman and I at DCC Compact Classics' office in Northridge/CA in 1993. The original master tape of Creedence Clearwater Revival "Green River" in my hands.

Hi Claus,

Thanks for designing this "fan site".
I'm flattered that you took the time to do it. I wish you well in this endeavor and I am grateful for your time and long-standing interest in my mastering work. I value your friendship.

Best regards
Steve Hoffman

February, 2005

I met Steve Hoffman in summer of 1993 and I have known Steve as a sympathetic guy with a great sense of humor.
Steve Hoffman has worked as a mastering engineer and freelance A&R consultant for several record labels.
For Audio Fidelity, Steve remastered some of the greatest Pop and Rock albums of all time for 24 Karat Gold CDs, SACDs and 180 gram LPs. America "Homecoming", Beach Boys "Pet Sounds", Alice Cooper "Killer", Deep Purple "Machine Head", Linda Ronstadt "Heart Like A Wheel", Yes "Close To The Edge", Spirit "Spirit", Warren Zevon "Excitable Boy" among many others.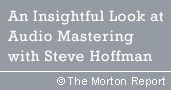 Steve has worked on 180 gram audiophile vinyl record releases from Tom Petty, Donald Fagen, The White Stripes and Red Hot Chili Peppers. He has remastered the classics "Fragile" by Yes and "Blue" by Joni Mitchell. In addition, for Warner Bros./Rhino Records he has mastered on vinyl the classic Van Morrison "Moondance", James Taylor "Sweet Baby James", Frank Sinatra and a host of others. Steve Hoffman and Kevin Gray remastered some of the greatest Blue Note albums of all time for the definitive 45 RPM Blue Note Reissue Series by Music Matters, Ltd. and Analogue Productions, pressed on Virgin 180 gram vinyl at RTI and SACD.

For Analogue Productions, Steve Hoffman and Kevin Gray remastered the back catalog of Creedence Clearwater Revival and over 100 of the greatest Jazz and Blues albums at 45 RPM. Steve's remixing and mastering of the important works of Nat King Cole on both 45 RPM vinyl and surround sound SACD have been the most challenging of Steve's career, over a year in the making. Steve and Kevin also remastered LPs for the British label Pure Pleasure Records.
Steve started his own website at the beginning of 2002. If somebody wants a great audiophile music forum, and likes sharing his opinions with others... be it your favorite recordings, the mastering work of Steve Hoffman, or anything else related to music, this is the place to be – with more than 100.000 members and a million hits a week, it is one of the biggest and most visited audiophile music forums. THE place to discuss music on the internet!